The RoundSerter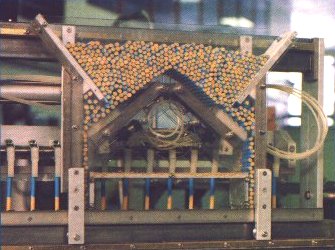 Technical Information
PLC: Omron
Power: 230 Volts, 50-60 Hz - 0,1 kW.
Air supply: 6 bar, app. 230 Itrlmin.

The inserter is made from stainless materials.

Bar freezer models
Customization is necessary for each model.

Type of sticks
Diametre 5 - 9 mm
Lengths 120 - 200 mm

The RoundSerter is designed for handling round sticks. The RoundSerter handles sticks made from wood, plastic, chewing gum or licorice.

The construction of the magazine allow the RoundSerter to work with long items and even sticky items like chewing gum.

The insertion is customized to the product and to the bar freezer

Maximum velocity is 18 strokes per minute.


"We reserve the right to make changes in design, construction or technical specifications without notice"