The MiniSerter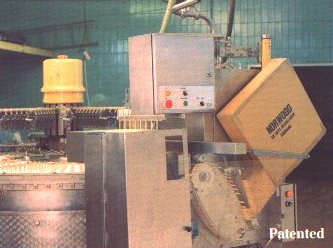 Technical information
PLC: Omron
Power: 230 Volts, 50-60 Hz - 0,2 kW.
110 Volts, 60 Hz - 0,2 kW.
Air supply: 6 bar, app. 230 ltr/min.

The inserter is made from stainless materials.

Bar freezer models
Polo 4, Ria 5, Rollo 20
Vita line 6 or similar.

Type of sticks
93 x l0 x 2 mm
113/114 x 10 x 2 mm

This fully automatic stick inserter is designed for the smaller bar freezers. Fully automatic stick insertion ensures better and more reliable stick supply.

Thoughtful design and construction makes it cost effective even on the smaller bar freezers. The MiniSerter needs no operator and runs with the less expensive bulk packed sticks

Maximum velocity is 20 strokes per minute

"We reserve the right to make changes in design, construction or technical specifications without notice"