The MidiSerter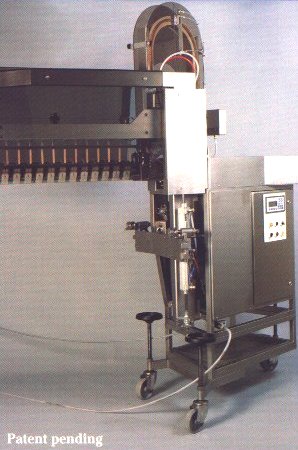 Technical information
PLC: Allen Pradley
Power: 230 Volts - 50-60 Hz - 0,3 kW.
110 Volts, 60 Hz - 0,3 kW.
Air supply: 6 bar, app. 250 ltr/minute.

The inserter is made from stainless materials.

Bar freezer models
The MidiSerter works on any standard bar freezer.

Type of sticks
93 x 10 x 2 mm
113/114 x 10 x 2 mm
94 x 18 x 2 mm

The MidiSerter is a fully automatic PLC controlled stick inserter. The MidiSerter was developed more than 25 years ago. It is now introduced with several modifications and improvements.

The MidiSerter is based on a traditional slide moving back and forth. The new slide construction has increased the speed due to lower weight. The take out from the intermediate magazine to the slide has been improved and has made the inserter very tolerant of sticks out of tolerance. Even half size or brooken sticks causes only little interruption.

Recommended maximum velocity is 28 strokes.


"We reserve the right to make changes in design, construction or technical specifications without notice"