The MaxiSerter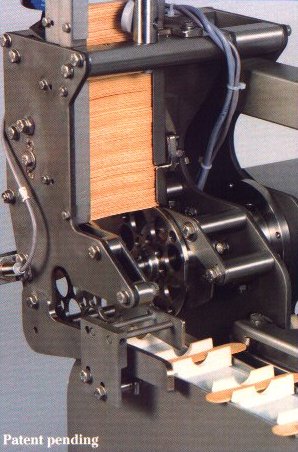 Technical information
PLC: Allen Bradley
Power: 230 Volts, 50-60 Hz - 0,75 kW.
110 Volts, 60 Hz - 0,75 kW.
Air supply: 6 bar, app. 250 Itr/minute

The inserter is made from stainless materials.

Bar freezer models
The MaxiSerter is designed for Rollo 35, Ria 14,
Vitaline 12/14 or even wider for the future.

Type of sticks
93 x 10 x 2mm
113/114 x 10 x 2mm
94 x 18 x 2 mm

The MaxiSerter represents the most advanced inserter technology, especially the dispensing of the sticks
from the intermediate magazine. The dispensing is done efficiently and quickly with a combination of a belt and a special dispenser system - a precise but very reliable construction.

The MaxiSerter has a reserve magazine option. In the unlikely event of a jam in the dispenser, the belt will reverse, taking sticks from the reserve magazine which can be either manually or automatically loaded.

Velocity of 35 strokes per minute is easily reached.


"We reserve the right to make changes in design, construction or technical specifications without notice"