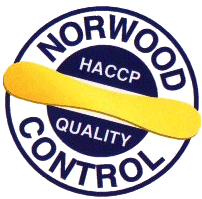 QCM - Quality Control Management
Norwood is the first primary packaging manufacturer to implement a quality assurance system to counter public concern on health matters and consumer demand for better product quality and product safety in particular Norwood has received full certification of QCM and free sale from the Danish Ministry of Food and Agriculture, National Food Agency of Denmark. Norwood QCM is not only covering the physical and micro biological quality dimensions of food safety. Norwood QCM is extended to cover ali manufacturing procedures from the quality of the wood to the quality of the finished stick using the analysis and verification principles of HACCP.
The QCM guidelines are stipulated in an overall Quality Plan for the production process to ensure that all critical points are continuously monitored. The Quality Plan is revised minimum once a year
Furthermore the company structure of the Norwood Group has resulted in great advancement in our overall competence and the Norwood Group is now able to offer customized quality seminars about stick handling to our customers.